WOOD GRAIN WPC CHARCOAL DECKING BOARDS – WOODSMAN +
Low Maintenance / Easy To Clean
For Commercial & Domestic Install
Guaranteed Not To Peel
Will Not Bubble Or Delaminate
Slip Resistant / More Grip In The Wet
Weather & Anti Ageing Properties
UV Stabilisers / Uniquely Uncapped
Fully Embossed Wood Grain Pattern
Reversible / 2 Options Of Finish
Anti Rot – Will Not Splinter Or Warp
Easy To Install
15 Year Warranty
25mm Depth – Tougher Than The Rest
2-3 Working Day National Delivery 
Next Day Delivery Option
Tough Decking composite decking is a great way to complete the look of your area. We offer two different types of composite decking. Active+ our grooved decking boards with largely spaced grooves on one side and more tightly spaced grooves on the other side. And the woodsman+ Our premium wood grain board designed with an organic wood grain texture on one side and largely spaced grooves on the other.
All the WPC decking boards offer great features like an anti-slip and a super simple cleaning and maintenance routine. As a company, we pride ourselves on great experience from beginning to end and beyond.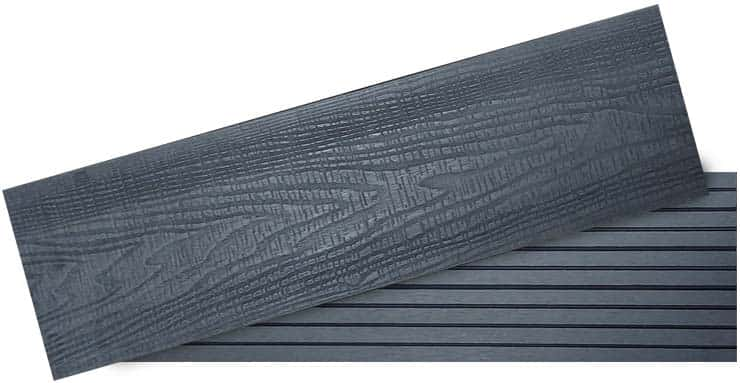 TOUGH

DECK WOODSMAN

+

Composite decking woodsman+ is our WPC decking board with a wood grain finish. It does an excellent job at bringing the area an authentic rustic feel.

Not only that but it looks absolutely fantastic and even more as the sun sets the shadows, change the whole feel of the board even more at night when the lights go on, they can be seen in an entirely different light excuse the pun. 

The woodsman+ comes in four colours Charcoal, Anthracite Grey, Stone Grey and Chocolate.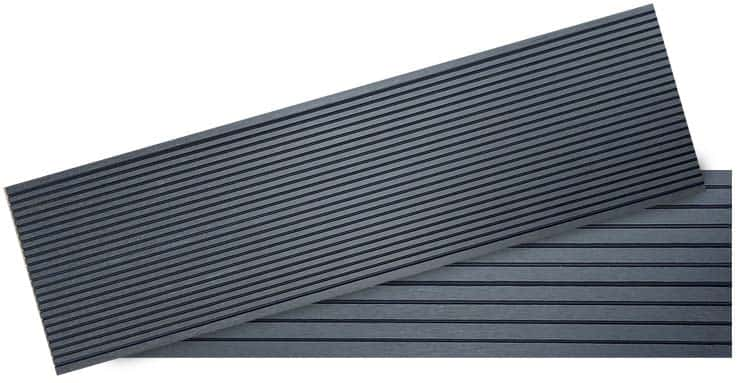 TOUGH

DECK ACTIVE

+

Composite decking Active+ is our WPC decking board with a grooved finish. It does an excellent job at bringing the area a modern clean feeling.

Not only that but it looks fantastic during the day and at night when the lights go on too. The Active+ composite decking range gives a clean and smart look to the overall composition of your garden. 

The Active+ comes in four colours Charcoal, Anthracite Grey, Stone Grey and Chocolate.

WOOD GRAIN WPC CHARCOAL DECKING BOARDS - WOODSMAN +
Wood Grain WPC Charcoal Woodsman + commercial grade decking boards, provides a fantastically clean & professional finish to any deck area. If you are looking to transform your garden or outdoor space, then our Tough Decking composite boards are the perfect choice for you.
Formed from 60% plastic and 40% recycled wood, the composite decking boards are uniquely uncapped. They will not rot, decay, warp or splinter, unlike the majority of lower quality composite boards on the market.
Designed against fading, our durable and strong composite boards, have anti mildew properties built into the product itself. They are also anti slip, providing even more grip in the wet. We are so confident in the quality of all composite full body products, that we offer a 15 year warranty on all decking and ancillary products.
Woodsman + Charcoal wood grain composite boards are full body and uncapped, guaranteed not to peel, bubble or delaminate. Unlike wood decking, or cheaper capped decking, minor scratches or scraps, caused by heavy garden furniture or household pets, can be easily sanded out. This is the biggest benefit of the woodsman and active + boards we supply, as opposed to the majority of capped decking on the market. Tough Decking is the perfect alternative to standard wood decking, but with all the benefits of being a composite material.
REVERSIBLE DECKING
For variety, we offer a different option of tread on each side of the Tough Decking boards. The boards provide you with a choice of attractive, but tough, anti-slip surfaces, offering even more grip when wet! We also offer the popular and unique Step Nosing Board, which you can use to form your steps or to meet any cladding that joins to the decking. The step nose, will provide an integrated and smooth transition on any corner and is what sets us apart from our competitors.
LOW MAINTENANCE
Tough Deck boards are easy to maintain, with anti mildew properties built into the product. Tough Deck products require virtually no maintenance and are very easy to clean. The Stainless Steel and Plastic Fixing clips & Starter Clips are surface hidden to provide a truly high-end flawless finish.
All our options of clips are fixed directly to the supporting joists. When fitted between the boards, this controls the expansion and contraction of the composite boards (minimum 8 per board is recommended). Active + is suitable for commercial or domestic installs.
Our competitive price and customer service will not be beaten.
For any questions or queries, please feel free to get in touch with our technical team.
TECHNICAL SPECIFICATIONS & CUSTOMER SUPPORT
DIMENSIONS OF EACH BOARD:
150mm (width) x 25mm (depth) x 2.2m (length)
APPROX. WEIGHT OF EACH BOARD:
5kg
For your peace of mind, all our composite boards come with a 15 Year Warranty. We are here to assist and advise, before or after a purchase has been made. We can help determine the best solution and quantity of decking you may require for your project. Just give us a call or drop us an email any time.
Our technical team have over 20 years combined knowledge and expertise in the installation and supply of composite decking. Therefore, there is no question or query we wouldn't be able to answer.
In essence, composite decking is very easy to install and maintain when our instructions are followed. We are here to help, whatever the situation or query, 24/7 and 365 days a year.
THE TOUGH DECK TEAM 
---
COMPOSITE DECKING ACCESSORIES & OTHER OPTIONS
Why not take a look at our Corner L Profile Trims and Composite Fascia Boards and Step Nose Boards. Match them to your decking colour or mix it up, with a different colour to your decking. There are some fantastic examples of mixed decking out there and the possibilities are endless. Also available our Stainless Steel & Plastic T-Piece clips & Starter Clips will be concealed from view and will not break or decay.
Why not have a look at the Tough Deck Active + Charcoal Black reversible boards, available in Anthracite.
Woodsman + is also available in: Anthracite, Chocolate Brown and Stone Grey.

VIRTUAL SAMPLE PACK
If you do not wish to order a real sample pack and would prefer to access our virtual samples please download/view this by clicking the image below.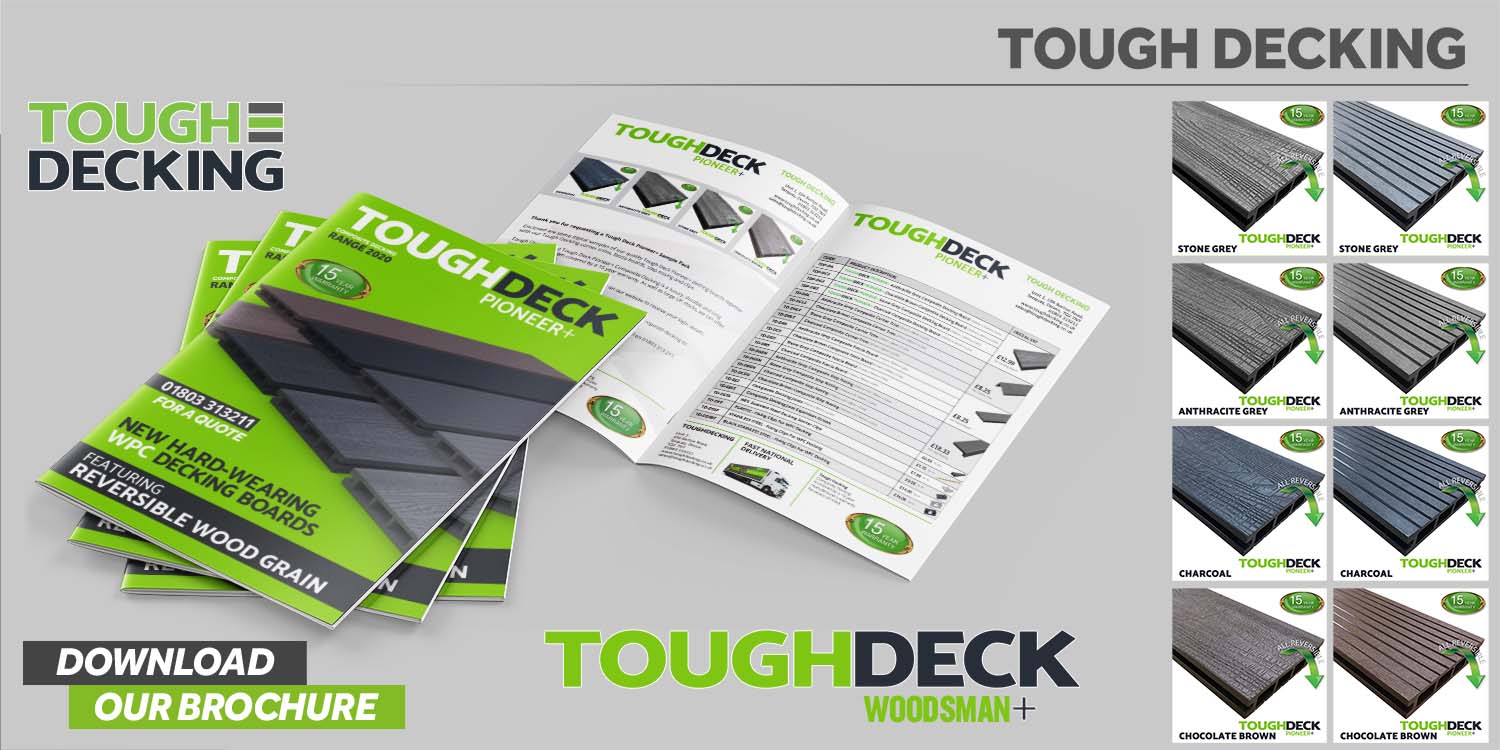 Additional information
| | |
| --- | --- |
| Dimensions | 220 × 15 × 2.5 cm |
| Features | Reversible Wood Grain / Grooved Finish |
| Tags | Decking Boards, Decking UK, Outdoor Decking, Best Composite Decking, Decking Supplies, Modern Decking, Composite Decking, Decking Area, Outdoor Decking, Garden Decking, Wood Grain Decking, Reversible Decking |
| Made in | Germany |