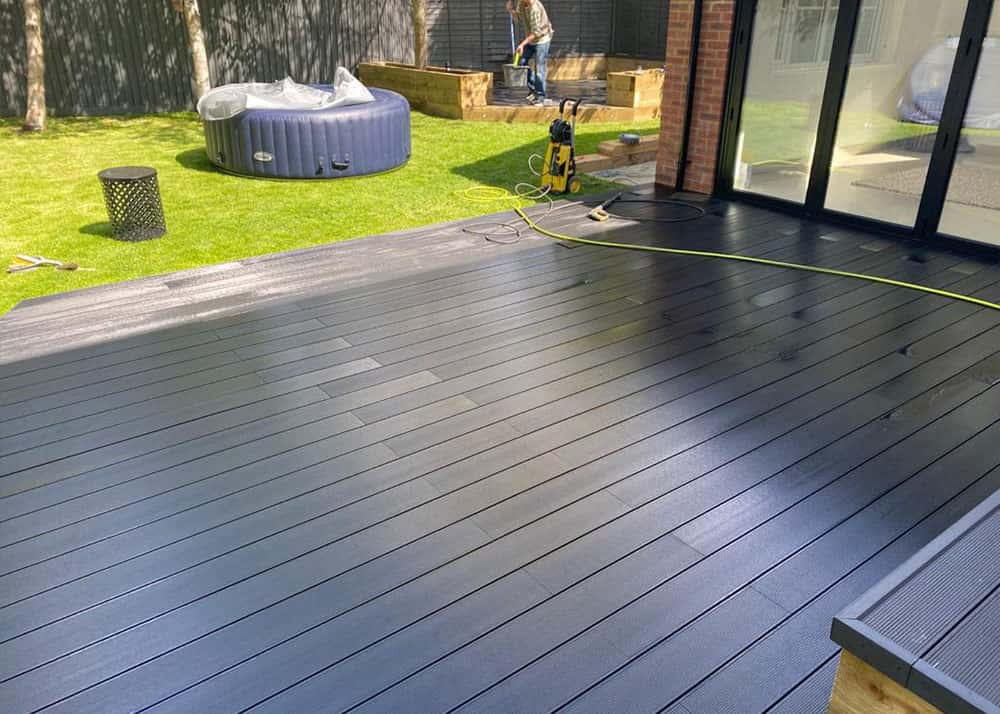 So Tough Decking Only Supply 2.2m Lengths…. Why?
Well… Most importantly, a 2.2m board will not expand and contract the same as a longer length board and this is important to know because….
Our Tough Deck Active+ & Woodsman+ composite board range all provide:
Convenience: Good quality composite decking boards are heavy and so can also be very cumbersome, especially in longer lengths. Our boards at 2.2-meter length are easier to handle and move and fit. This makes the fitting process Much Faster and Easier for a DIY homeowners or professional tradesman to work with. Longer lengths are also prone to warping if left loose and stored correctly before fitting. This makes fitting long length and completing the decking neatly and accurately extremely difficult even for professional fitters.
Versatility: Our composite decking boards are commonly used in a variety of outdoor living spaces, including decks, patios, balconies, roof gardens and more. By offering both our board types at 2.2-meter in length, meets the needs of a wide range of project sizes and configurations.
Cost-Effectiveness: Longer lengths of composite decking boards can be more expensive due to additional material costs needed for higher wastage factors. Extremely long lengths can also cost more in transportation and can require specialist vehicles. By offering a standard 2.2-meter length, our boards have very low wastage can be easily transported and are less likely to be damaged during handling. This is particularly important for environmentally conscious builders and homeowners who want to reduce their impact on the environment. It also helps to reduce the cost of the installation by minimizing waste and maximizing the usage of each board.
Honest Feedback: From our customers and frequent installers in the past was that longer boards were very difficult to install and handle. The main complaint was that the expansion and contraction was almost impossible to control. This issue would arise, irrelevant on how many joists, fixing clips or type of fixing clip were installed. This would mean that gaps would be created between joints and in the worst case, buckle and warp, similar to wood decking over time. The time and severity of this issue would be heavily dependent on the weather and how much heat exposure the decked area received from direct sunlight.
We Truly Believe: 2.2m length board looks far better than a longer length board. This is because we encourage a staggered joint effect in the decking finish. Effectively the same pattern as a brick wall. This not only makes the decking look cosmetically better, but it also means that the decking is clipped and supported sufficiently. Composite decking, not just Tough Deck boards, relies heavily on the framework underneath. The joists beneath the composite boards provide the overall strength to the decked area. With the correct number of joists (including double joists) and clips installed, little to no movement of the decking should be expected with either the Active + or Woodsman + composite boards.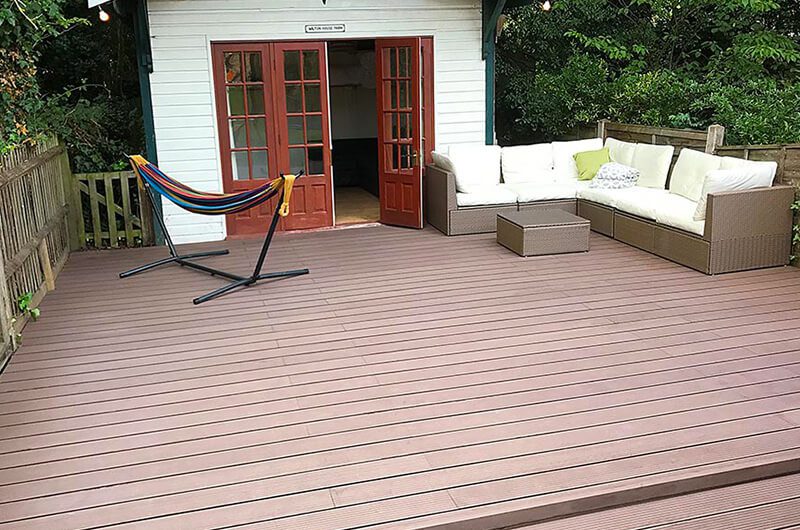 Also… Tough Decking only supply Commercial Grade 25mm Deep, 150mm Wide Composite Decking Boards
So why does this matter..?
Well – The majority of cheap composite decking on the market is usually 21mm deep and 130mm – 145mm in width. 21mm deep x 130 – 145mm wide product is cheaper in part as it simply needs less raw material to produce. It is also quicker and easier to extruded smaller profiles. All Tough Deck Woodsman+ and Active+ ranges are commercial grade 25mm thick, 150mm in width boards. Tough deck boards have been supplied and fitted throughout the UK and even Europe. Recently it has been exceptionally popular in pubs, cafes, restaurants and sports clubs to extend their outside eating and entertaining areas.
We hope this has been informative. Thank you for reading.
The Tough Decking Team