Covid 19 Notice – We are open for online orders only
Hi Everyone, Just a quick update. As an Internet Business we are open as usual, Monday – Friday 8am – 5pm. We are still processing online and telephone orders and delivering as normal. Our showrooms will remain closed until further notice. If you need to arrange a collection please call us on 01803 316060. (Office Mobile: 07477 908497). As this is an on going situation we will of course keep you updated should things change.
In the meantime please take care and remain safe as always. Best regards, Andrew Knight, Director.
Need Help?
Our time and advice are free so don't be shy. Please feel free to give us a call.
W = Wood + Additives

60%

60%

P = Plastic

40%

40%

C = Composite Decking / WPC.

100%

100%
Quick Quote
For a quick quote why not call us or use our simple Decking Estimator?
Brilliant composite decking products, Excellent Service, Ordered Tuesday it arrived on the Wednesday, Michael and Dale fitted on the weekend perfect Thank You.
Perfection is all I can say exactly how online shopping should be thanks guys.
Great job, you go above and beyond the call of duty my friends, I will be back again when i do my other house.
Composite Decking aka WPC Decking from Tough Decking. Available to Buy online or pick up in store today.
Cheap softwood decking or expensive hardwood decking just can't compete, guaranteed!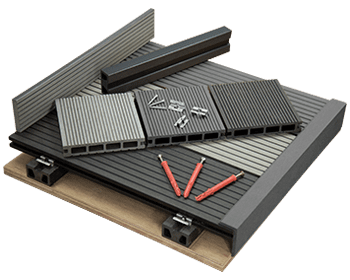 WPC Decking Costs.
WPC decking costs approximately £26 per m2. This is far less than hardwood decking. WPC decking costs even less than softwood decking if you include yearly maintenance costs that will be needed to maintain softwood decking.
Tough Decking domestic and commercial grade deck boards will outlast virtually any other type of decking. Tough decking is economical to buy, requires virtually no maintenance and will provide a beautiful, luxurious anti-slip surface. This anti-slip surface allows you to enjoy your decking all year round, year after year! No other decking comes close.
Anti Slip Decking
Tough Decking WPC Composite Decking is designed to be anti-slip whatever the weather, wet or dry! Unlike softwood or hardwood decking planks that become extremely slippery in wet weather, tough deck boards stay anti-slip year round. Many customers actually feel Tough Decking boards actually become grippier underfoot in wet weather!
Your decking should be able to be enjoyed all year round. With tough decking installed everyone can do so with sure-footed confidence in all weather – wet or dry, hot or cold!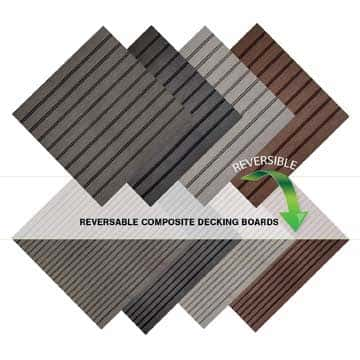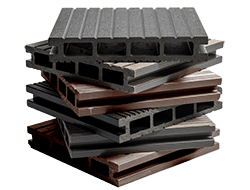 Full Bodied Colour.
All Tough Decking WPC boards are constructed with a full-bodied UV resistant color saturation. This means the surface color runs right the way through all our composite decking boards and trims. Because of this, small scratches or damage will be virtually unnoticeable. Also, larger areas of damage can easily be sanded out as the color run all the way through the boards.
National Composite Decking Delivery Available. Free Delivery of WPC Composite Decking in most Torquay, Paignton, Brixham, Totnes, Newton Abbot, Dartmouth, South Hams, Exeter, Exmouth and South Devon areas.