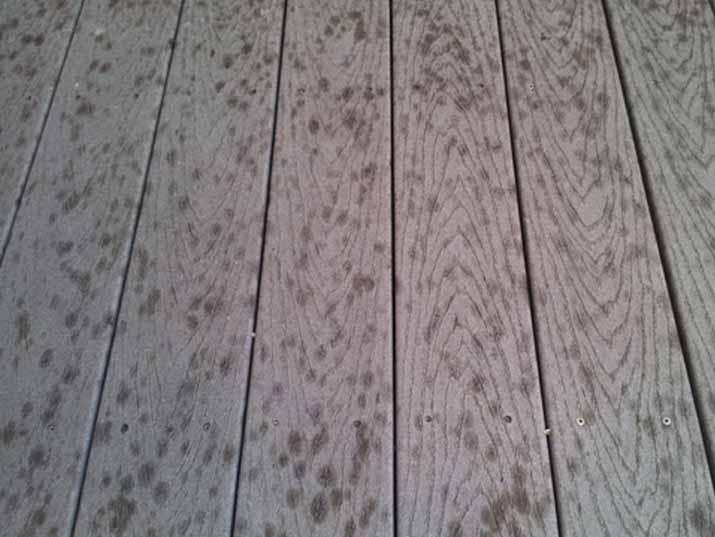 What is the difference between capped and uncapped decking we hear you ask?
Good news is Tough Decking only supply commercial 'uncapped' composite decking. Why is this so good… and what difference does this make compared to other decking that is capped?
Many of our competitors will only supply 'capped' decking. By capping a base plank the capping is used to protect the base plank from the elements but also add texture and colour. So whats wrong with this… Well often the base planks material is an inferior product to keep cost down but even with the best base layer eventually the bond between base layer and capping breaks down and that's when the problems start. Once the surface capping is damaged the elements such as water, sun, dirt grease etc can get in and under the capping. Once under the capping it can cause the capping to delaminate and also blister. In the picture about you can see how water has seeped in and under the top capped layer and caused water marks that are not able to be removed. Over time these marks will grow and eventually the surface will bubble and delaminate. In freezing conditions or under hot sun this process will be accelerated. The only rectification to the problem is total replacement of the decking. This is an easy way of protecting the decking from direct sunlight and UV Rays. Capped decking is essentially a composite board that has an additional layer of lacquer added to the surface of the board. Their logic behind this is that adding this layer protects the boards from fading and is also a cheaper way of manufacturing the board.
The big disadvantage with capped decking, is this layer is susceptible to peeling or bubbling over time (see pic). It is what we often hear from our customers in the 7 years+ of supplying composite decking. Importantly our products are 'uncapped'. They are commercial grade full body composite, with both Active + and Woodsman + having both surfaces finishes etched into them, no lacquers or layers are added.
All our decking products have inbuilt UV stabilisers added to them upon manufacture. Therefore, although the initial fade of the boards is expected, they will reach their natural colour usually within 2 months after installation. They shouldn't continue to fade. The beauty of our products being 'uncapped' is that minor scratches or scraps, caused by garden furniture, can easily be sanded out. The boards will look like new ones with very minimal fuss and effort.
Amazing Looking Decking Year After Year
We believe that uncapped is the best option when it comes to composite decking. That is why we offer a 15-year warranty and are confident in the products we supply. Not only are we respected suppliers, but we also have experience in the installation of composite decking. We know how they should be installed and are more than happy to advise you throughout the project. If you need help working out what you need, then give us a call or drop us an email.
From experience the common misconception we hear is that Composite decking is fitted the same way as conventional wood. That is why we have worked hard on our instructions over the years, taking pride in our customer service and support. The DO's & DONT'S we highlight in our instructions should always be followed. With the decking installed correctly, we guarantee it will look amazing year after year.
Thank You For Reading
The Tough Decking Team