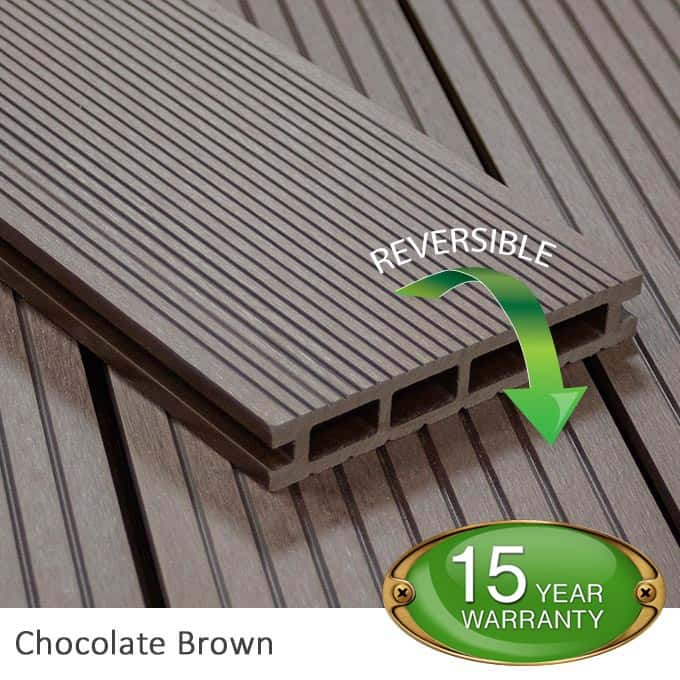 Today we launched our Chocolate Brown decking! and it's selling super quick. It's the perfect fit for someone looking for a colour between Charcoal and Stone Grey.
Chocolate Brown WPC Decking gives any decking a fantastically clean and professional finish. Made from 60% plastic and 40% wood our composite decking boards will not rot decay. Designed against fading it has anti-mildew properties and is anti-slip even when wet. The full bodied color means that the decking can be sanded down like traditional wood whilst maintaining it's original color. Also guaranteed is our amazing price which will not be beat. In conclusion if you have any questions or queries please feel free to get in touch. Our technical team are standing by to answer any of your questions our time and advice is free.
A different tread on each side of our Tough Decking Chocolate WPC decking boards. provide a choice of desirable, tough anti-slip surfaces even when wet! The boards have self-cleaning anti-mildew properties and require virtually no maintenance during their lifetime.
Our stainless steel hidden fixing clips provide a truly high end flawless finish. They can also be screwed direct to the supporting joists through the deck surface if preferred.
Measuring 150mm x 25mm x 2.2m or (4.4m are available but please contact us as there are delivery restrictions) the boards once evenly spaced and fixed side by side, end to end to cover any size area.
Also available in Charcoal, Anthracite Grey and Stone Grey colours
Thank You For Reading
The Tough Decking Team