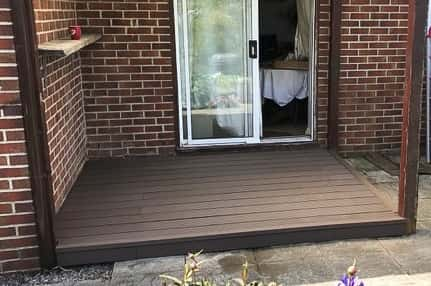 When the homeowners approached MDV Carpenters for a decking installation, they knew they wanted something special. And the final product exceeded all their expectations. The Brilliant installation of the Chocolate Brown WPC Decking by MDV Carpenters added the perfect finishing touches to the courtyard, creating a clean and welcoming entrance to the house.
The small decked area may seem insignificant, but it made all the difference in the overall appearance of the courtyard. The chocolate brown color of the WPC decking boards provided a warm and inviting contrast to the natural greenery of the courtyard, while also bringing a modern and sleek look to the space. The installation was done with precision and care, every board was placed with intent, ensuring that the final product was flawless.
The homeowners were delighted with the final outcome of the project. Not only did it add to the aesthetic appeal of the courtyard and the entrance of the house, but it also added value to the property. The WPC decking boards supplied by Tough Decking are made of high-quality materials, ensuring that the decking will withstand the test of time and require minimal maintenance.
The homeowners couldn't be happier with the results of the project and the service provided by MDV Carpenters and Tough Decking. The decking installation was more than just a functional addition to the courtyard, it was a true work of art that added beauty and value to the property. It is a testament to the skill and attention to detail of MDV Carpenters, and the quality of the decking boards supplied by Tough Decking.
Thank You For Reading
The Tough Decking Team