Charcoal Composite Fascia Board
Charcoal Fascia Boards are a perfect end to the perfect decking. Without the correct edging, even the most extravagant decking can look incomplete. And the fascia boards allow you to achieve a seamless finish to the edge of your decking. Which will give your project the attention to detail it needs. Fascia boards are an excellent solution that provides projects with a perfect perimeter finish. And is available in all colours
Tough Decking composite decking is a great way to complete the look of your area. We offer two different types of composite decking. Active+ our grooved decking boards with largely spaced grooves on one side and more tightly spaced grooves on the other side. And the woodsman+ Our premium wood grain board designed with an organic wood grain texture on one side and largely spaced grooves on the other.
All the WPC decking boards offer great features like an anti-slip and a super simple cleaning and maintenance routine. As a company, we pride ourselves on great experience from beginning to end and beyond.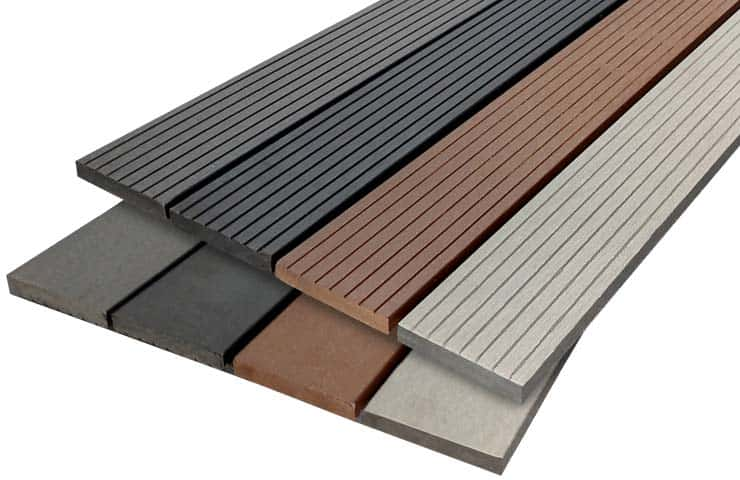 TOUGH

DECKING Fascia Boards

Composite decking Fascia's are our WPC finishing trims that sit flush against the end of the composite decking. Acting as cap to the end of the boards which do an excellent job at completing the area in a neat and tidy way.

The Composite fascia boards are reversible, flat on one side and evenly spaced grooves on the other. They do an absolutely fantastic job of ending the decking. You can even change the whole feel of the area by putting lights in and at night when the lights go on, they can be seen in an entirely different light excuse the pun. 

The Composite Fascia Boards come in four colours Charcoal, Anthracite Grey, Stone Grey and Chocolate. 

Black Composite Fascia Board.
Not like timber decking, Black composite fascia board gives any decking a fantastically clean and professional finish. Manufactured in the same way and made from the same composite materials as the decking boards. Therefore will expand and contract at the same rate. Furthermore, they are also available in tropical teak, stone grey and charcoal black same as the decking boards. The composite fascia boards complete any edge and give the decking more detail, to give the whole look that little something extra.
The fascia also looks fantastic as edging detail and not just concealing edges. The finishing touches of the composite fascia will make your composite decking scream quality. And all for our amazing price which will not be beat.  In conclusion, If you have any questions or queries please feel free to get in touch. Our time and advice is free. Designed as an edge skirting or finishing trim in a solid profile format. Available in all four colours to suit your decking the trims are easy to cut and work with. Depending upon the foot traffic of the decking area. The decking boards can either be screwed or glued down into position.
---
Other decking accessories and Timber Decking alternatives.
Why not take a look at our corner L profile trims and Composite joists. Match them to your decking colour or mix it up a little, There are some fantastic examples of mixed decking out there and the possibilities are endless. Also, our T-piece fixings are stainless steel so not only will they be concealed from view but as a result, they will also not break or decay over time. Can also go directly onto existing wooden joists if needed all down to your preference at the end of the day.
Additional information
| | |
| --- | --- |
| Dimensions | 220 × 1.1 × 7 cm |
| Colour | Charcoal Black |
| Double Sided | Grooved & Flat |
| Tags | Decking Boards, Decking UK, Outdoor Decking, Best Composite Decking, Decking Supplies, Modern Decking, Composite Decking, Decking Area, Outdoor Decking, Garden Decking |
| Made in | Germany |