Charcoal L Profile Composite Corner Trim
Provides A Finish On Corners / Steps
For Commercial & Domestic Installation
Easy To Install
Compatible With Active + & Woodsman +
Fixed With Glue/Silicon Or Screwed Down
Weather & Anti Ageing Properties
UV Stabilised
Low Maintenance
15 Year Warranty
6mm Thickness / 2.2m Length
External Sizes – 37mm x 68mm
Tough Decking composite decking is a great way to complete the look of your area. We offer two different types of composite decking. Active+ our grooved decking boards with largely spaced grooves on one side and more tightly spaced grooves on the other side. And the woodsman+ Our premium wood grain board designed with an organic wood grain texture on one side and largely spaced grooves on the other.
All the WPC decking boards offer great features like an anti-slip and a super simple cleaning and maintenance routine. As a company, we pride ourselves on great experience from beginning to end and beyond.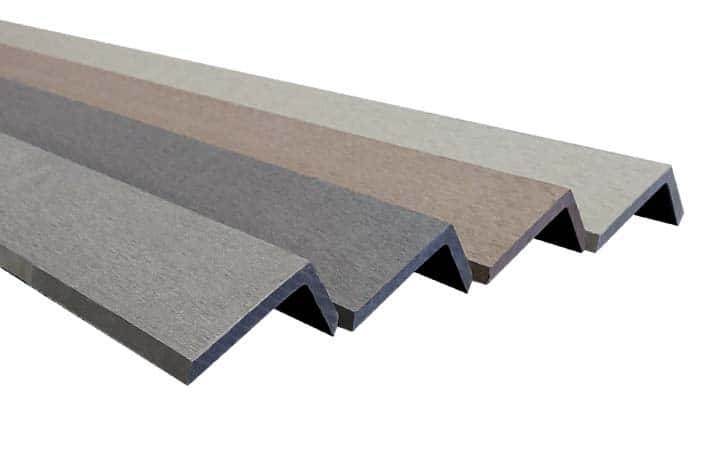 TOUGH

DECKING CORNER TRIMS

Composite decking Corner Trims are our WPC finishing trims that sit flush against and on top of the end of the composite decking. Acting as cap to the end of the boards with a little class. It does an excellent job at completing the area in an eye catching way.

The Composite Corner Trims come in four colours Charcoal, Anthracite Grey, Stone Grey and Chocolate. 

Charcoal L Profile Composite Corner Trim
Charcoal L Profile composite corner trim, offers a fantastically clean and professional finish to the decked area. It's main purpose is to be used as a finishing edge or to highlight a small step down. Formed from the same high grade composite materials as the Tough Decking composite boards, profiles can be used on both commercial and domestic installs.
Available in 4 colours, the Charcoal L Profile edging can be used to compliment and finalise the decked area. Designed against fading and degradation, our durable composite boards have anti mildew properties built into the product itself.
The trims look fantastic when fitted, the perfect solution when concealing untidy corners, cuts or angles. For further options, we also have the unique Step Nose Boards or Fascia Skirt to work with, or as an alternative, to the L Profile edging trim.
Easy to cut and work with, the Anthracite profiles are installed the same way as conventional wood edging, either glued or screwed down into position.
To counter issues with expansion and contraction, the edging trim should be fitted 2-3 weeks after the decked boards have been installed.
TECHNICAL SPECIFICATIONS 
Internal Size: 30mm x 60mm
External Size: 37mm x 68mm
WPC Thickness: 6mm
Length: 2.2m
CUSTOMER SUPPORT
We are here to assist and advise, before or after a purchase has been made. We can help determine the best solution and quantity of decking you may require for your project.
Our technical team have over 20 years combined knowledge and expertise in the installation and supply of composite decking. Therefore, there is no question or query we wouldn't be able to answer.
In essence, composite decking is very easy to install and maintain when our instructions are followed. We are here to help, whatever the situation or query, 24/7 and 365 days a year.
THE TOUGH DECK TEAM 
---
Other decking accessories
Why not take a look at our Fascia Boards, Step Nose Boards and Composite joists. Match them to your decking colour or mix it up, it is your choice entirely. Our T-Piece Expansion Fixings are so not only will they be concealed from view but as a result, they will not break or decay over time. Tough Decking Boards can also be installed directly onto existing suspended wooden joists or our low profile composite joists, when  'haunched into cement' or laid onto a solid sub base.
Additional information
| | |
| --- | --- |
| Dimensions | 220 × 3.7 × 6.8 cm |
| Colour | Charcoal |
| Tags | Decking Boards, Decking UK, Outdoor Decking, Best Composite Decking, Decking Supplies, Modern Decking, Composite Decking, Decking Area, Outdoor Decking, Garden Decking |
| Made in | Germany |